RollApart Buildings Inc.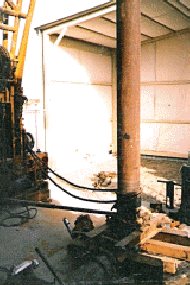 Left: A well is being drilled in a RollApart Building's interior.
Upper right: A well is being drilled inside a RollApart building. Note how the drill rig is positioned right in the opening created when the building is opened.
Lower Right: 24' 0" by 24' 0" RollApart with a parapet.
Acrylic stucco walls
3 exterior personnel doors
Located in an industrial park, a small picnic area was constructed around this building.